Artisans in the news
Videos, articles, and snapshots from featuring our artisans.

Christina Boy featured in Home & Design magazine
Madison county woodworker Christina Boy was recently featured in Home & Design magazine. Follow this link to the online article. Make sure to visit Christina and explore her work first hand during the 2019 Artisans Studio Tour!
Local magazine highlights potter Christina Osheim
Christina Osheim and her beautiful ceramics were featured in the May 2019 issue of Abode. Here is a link to the article. Christina is participating in the Artisan Studio Tour for the first time this year, and we highly recommend a visit to her studio in the Woolen Mills area of Charlottesville.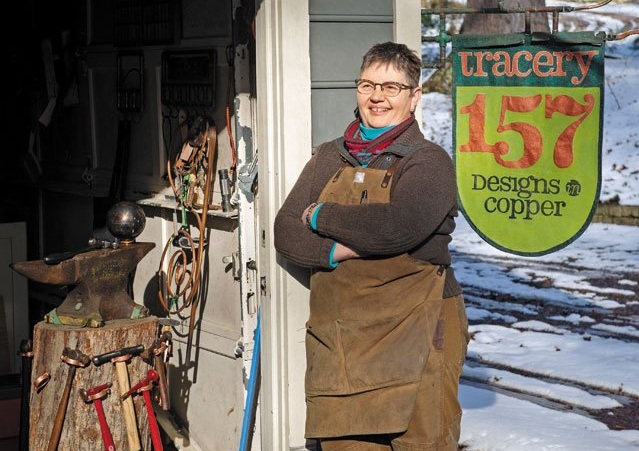 Cathy Vaughn makes the news in Richmond
An April article in the Richmond Magazine showcases metalsmith Cathy Vaughn and her unique creations in copper. Follow this link to learn more about Cathy and her work. Cathy returns to the Tour in 2019 and she will be a guest artisan in Todd Leback's studio in Charlottesville.
Five Tour Artisans at 43rd Street Festival in Richmond, September 15, 2018
Potters Elizabeth Krome and Nancy Ross, jeweler Greg Sandage, metal artist Cathy Vaughn and mixed media artist Jan Elmore join over 75 others at the 27th annual 43rd Street Festival of the Arts on Saturday, September 15th, 10-5pm. This Richmond neighborhood art festival has music performances and food available all day. Fundraiser for CARITAS. Free to the public. www.facebook.com/43rdStFestival
2018 Virginia Clay Fest
The Virginia Clay Festival takes place in Stanardsville, Virginia in Greene County on September 22 & 23, 2018. Several Tour artisans will be participating: Janice Arone, Becky Garrity, Elizabeth Krome, Nancy Ross, and Steve Palmer. Tour potters Holly Horan and John Pluta of Noon Whistle Pottery are also the organizers of the Clay Festival. Tom Clarkson, professor of ceramics at PVCC, joins the Festival this year. All potters will be demonstrating during the 2-day event. www.virginiaclayfestival.com
Fiber artists in McGuffey Art Center exhibit
Mary Beth Bellah and Lotta Helleberg, two fiber artists participating in the Artisans Studio Tour, exhibited their work in the show Fiber Transformed at McGuffey Art Center in Charlottesville, Virginia. in Charlottesville, Virginia. The exhibit ran October 4 – 30, 2016.
Award Winners
Congratulations to Anne Hanson of Anne R. Hanson Jewelry and Richard Gordon of Phineas Rose, who both received Honorable Mention awards at the Arts in the Middle show in Urbanna, VA, June 4th and 5th, 2016. Well deserved!
Video from Fred Williamson's studio during the 2014 Tour